When recording a Zoom session (for example to record an office hours session or a screen capture demonstration) it is nice to have choices on whether the recording should be stored in the cloud (for easy sharing from Zoom or Kaltura) or to your local computer (for editing and higher resolution video). To choose cloud or local recording options, you can select the carrot icon next to the record button in the Zoom toolbar and choose where to record the video.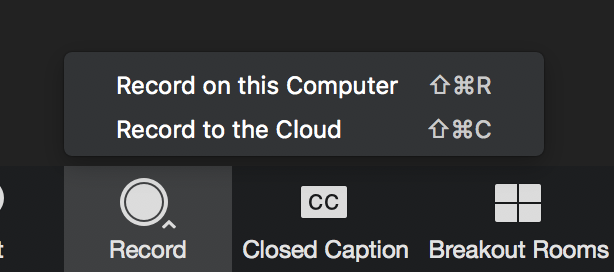 If you do not have options, check your zoom settings and make sure local recording is turned on.
One way to get to your settings is to sign in to the Zoom portal at: https://psu.zoom.us/ using your PSU access account.
1. Click 'Meeting Settings'
2. In the Recording tab, navigate to the Local Recording option and verify that the setting is enabled.
3. If the setting is disabled, click the toggle to enable it. If a verification dialog displays, choose Turn On to verify the change.

Note: If the option is grayed out and you can not toggle it on, it has been locked at either the group or account level, and you will need to contact the PSU helpdesk (helpdesk@psu.edu or 814-865-HELP (4357)) to turn it on.