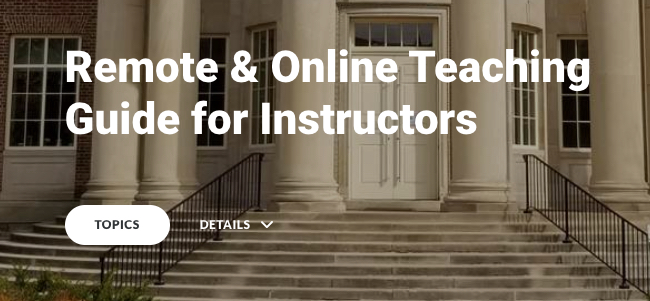 The Learning Design Team at the Dutton e-Education Institute is pleased to announce a newly developed resource, a Remote & Online Teaching Guide for Instructors, to assist with the transition from face-to-face offerings to remote or online delivery.
As it was decided that the remainder of the Spring '20 semester would be delivered remotely, the University community reacted by pulling together and developing resources to help all faculty transition their courses. We have used those valuable resources and others to curate a collection that we believe is most useful to meet the needs of EMS faculty.
Our goal is twofold: to support EMS faculty and to give our students the best learning experience possible, not only during these trying times but into the future. Our resource provides instructions for how to perform certain tasks with commonly used technologies, but it also provides the "why" to do them.
We hope you'll find the Remote & Online Teaching Guide for Instructors to be helpful as you begin to think about your upcoming courses. Take some time to work through it chronologically, or use the search feature to locate items that you need to learn how to do quickly.
As always, if you need additional assistance, set up a consultation with a learning designer from Dutton's Learning Design team by contacting Stevie Rocco at stevier@psu.edu.