Click on the name badge images to see the slide presentations for each of the technologies. If you have any questions or want to learn more about a given technology, please reach out to Stevie Rocco, Director of Learning Design, to schedule a consultation with our learning design team.
Adobe Spark is a suite of media creation apps for graphics, videos, and web pages. This can be used for content creation and student generated assignments.
---
Kaltura is a video creation, storage, and sharing platform - Turn a video into an interactive quiz!
---
Lightboard is a teaching and presentation recording tool. Available in the EMS Faculty Studio.
---
A Pen Display is a tool for creating and recording on-screen drawings and annotating complex images.
---
RShiny helps you turn data and analyses into interactive web apps.
---
Slack is an instant messaging platform where files, information, and messages can all be shared.
---
Snagit is a screenshot program that can capture images, video, and audio.
---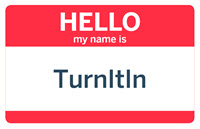 Turnitin is an online plagiarism detection service that can be used by students and instructors.
---
Zoom provides remote conferencing services - great for hosting online office hours and creating pre-recorded segments.