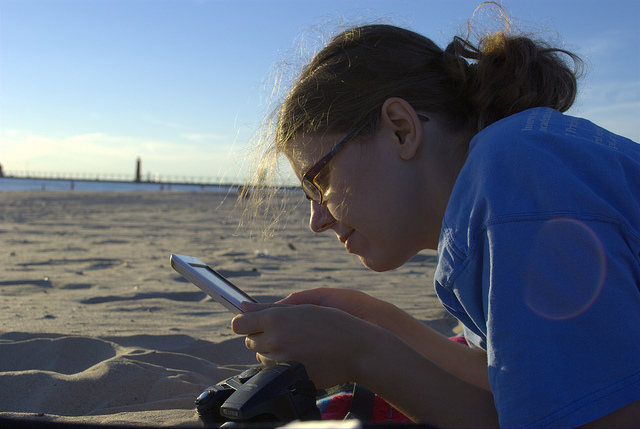 Credit: Michael Mol via Flickr
The sound of waves crashing onto the shore…
The feeling of wind blowing through your hair…
The crisp taste of a refreshing beverage as you sit in the hot sun…
And a list of e-learning blogs to add to your news feed….
Summer is here! For many of us, summer is an opportunity to make more time to explore our passions. At the Dutton Institute, one of our passions is creating high-quality educational opportunities for Penn State students. We are often motivated and inspired in this pursuit by connecting with resources that highlight current trends and best practices in online education. The curated list below is meant to provide you with a jumping-off point (a diving board, if you will) for finding helpful online resources to inspire your online teaching. Read on!
The Web 2.0 Connected Classroom. Steven W. Anderson provides many insights into ways that technology and social media can be integrated into meaningful learning experiences for students. For those of you on Twitter, he is also a prolific tweeter.
The Innovative Educator. Lisa Nielsen is a public school educator who has an excellent perspective on ways to use technology to enhance students' classroom experiences (both online and in-person). A recurring post is The Hottest Posts Everyone's Reading, in which she shares links to high-traffic ed-tech blog posts from around the web.
E-Learning Acupuncture. Eric Tremblay is an educational developer in Ontario. His blog is full of helpful information about a variety of topics, including active learning in an online environment and current trends in ed-tech.
E-learning by Tracy Parrish. Tracy Parrish has curated this enormous list of e-learning tools, most of which are free. They are listed by category for easy navigation. Very helpful!
---
For those bookworms out there, here are some recent releases that we have read and that you may want to check out as well:
Show Your Work by Jane Bozarth
Jane recently presented a workshop on showing your work at the Elements Web Conference at Penn State. She inspired Dutton learning designers to rethink how we share our work with others.
Design for How People Learn by Julie Dirksen
Julie participated in a Q&A this spring with PSU learning designers who had read her book. Her book does a great job of reminding us how the brain works, and how we can maximize learning by making some important adjustments to our instruction and online presentation.
---
If you are interested in checking out a more extensive list of resources, including YouTube Channels and Twitter accounts, you can check out this collaborative document created by two of our Dutton Institute learning designers.
Happy reading!