All sessions are held in 413 Earth & Engineering Sciences Building (note different location)
---
Upcoming Sessions
Join learning designers from the Dutton Institute for a new monthly series, "Food for Thought," devoted to sharing ideas for effective teaching for all faculty in EMS. Whether teaching "on the ground" or online, participants should walk out of the session with ideas that they can implement in their teaching immediately!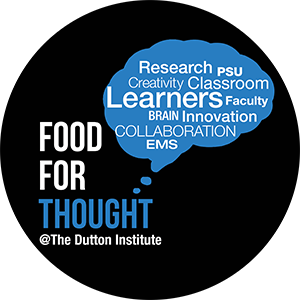 Can't make it in person? Join us virtually at http://bit.ly/duttonfft
Questions? Contact event organizers, Emily Baxter (ebaxter@psu.edu) and Jane Sutterlin (jes17@psu.edu)
Save the Date!
Our next session will be held on Thursday, March 22nd from 12:00 - 1:00 pm in 413 Earth & Engineering Sciences Building. Join us to learn how you can enhance your teaching using the Kaltura video platform!
---
Past Sessions
Gen. Ed. Recertification: Your Questions Answered (January 18, 2018 ~ 12:00 - 1:00 p.m.)
The January 18, 2018 session was devoted to a panel presentation and Q&A devoted to helping faculty prepare to recertify their gen. ed. courses.
Watch the recording of the session (34:02) to learn more about what you need to do to recertify your gen. ed. course! Or download the slides from the presentation!
Creating a Conscientious Culture in Your Classroom (November 8, 2017 ~ 12:00 to 1:00 pm)
The November 8, 2017 session was devoted to exploring strategies and tools for potentially reducing the risk of student cheating in your courses by cultivating a conscientious culture in your classroom. We explored current research as well as practical tools and strategies that you can implement immediately.
Watch the recording of the session (49:14) to learn more about how to deal with academic integrity violations in your courses!
Take Action on Infractions - Reporting Academic Integrity Violations in Your Class (September 28, 2017 ~ 12:00 to 1:00 pm)
The September 28th session featured members of the EMS Academic Integrity Committee, who presented and led a discussion of what to do if you suspect an academic integrity violation. The video linked below (18:46) features a brief presentation offered by Yvette Richardson outlining EMS and Penn State University policies and procedures that have been put in place to deal with academic integrity violations.
Watch the recording of the session (18:46) to learn more about how to deal with academic integrity violations in your courses!
Presentation slides from the session are also available.
Beat the Cheat! (August 10, 2017 ~ 12:00 to 1:00 pm)
The August 10th session was devoted to strategies to safeguard your course from academic integrity violations. A panel of experts from within EMS was on hand to share strategies faculty can use right away to prevent cheating before it starts.
Watch the recording of the session (1:01) to learn more about ways to prevent academic integrity violations in your courses!
Presentation slides from the session are also available.
Canvas Gems (April 27, 2017 ~ 12:00 to 1:00 pm)
The April 27th session was devoted to 'hidden gems' in Canvas. Faculty and designers shared what they have discovered works well for them in Canvas.
Watch the recording of the session (1:08) to learn more about features in Canvas that can make your life easier!
Canvas - Get your Course up and running in no time! (March 23, 2017 ~ 4:00pm to 5:00pm)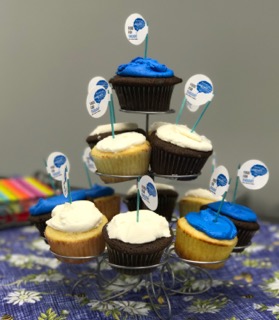 The March 23rd session was devoted to quick and easy ways to get your course up and running in Canvas in no time!
The recording of the session (44:46) highlights a suggested template to easily get you started in Canvas, looks at assignment creation and grading, and discusses best practices for communicating with students using Canvas. If you have any questions regarding this session or would like a Canvas Consultation, please contact Emily Baxter (ekb120@psu.edu) or Jane Sutterlin (jes17@psu.edu).
Using Copyrighted Content in Your Course and Scholarship! (November 19, 2015 ~ 12-1:30pm)
We will be hosting Brandy Karl, Penn State's new copyright officer. Brandy serves as the expert in copyright, fair use, Teach Act and other related issues for the University Libraries. Prior to Penn State, Brandy served as a fellow at Stanford Law School's center for Internet and Society and Fair Use Project. She has also been an attorney extern at the Federal Communications Commission's Office of Strategic Planning and Policy Analysis. Karl has her master of laws from Georgetown University Law Center and her juris doctor from Boston University School of Law.
Writing Effective Rubrics (October 27, 2015)
Rubrics are used to help students self-assess their own work, for peer review of student work, and also for both formative and summative assessment. This session will cover the different types of rubrics and walk through some best practices for creating your own. Participants will leave with some sample rubrics to adapt for use in their own courses, including a demonstration of the rubric feature of Canvas.
Writing Effective Rubrics Recording
Resources mentioned in the recording
Understanding SRTEs (September 2015)
This workshop provides an opportunity for you to ask questions about the SRTEs, and to try out methods for using your SRTEs to inform your teaching. You will also get ideas on how to present your SRTEs to those in charge of evaluating your performance as a teacher.
Why All This Talk About Accessibility? (May 2015)
Michelle McManus, Accessibility Consultant with ITS, will help us answer that question as she demonstrates what she "Sees" when she looks at a web page. Michelle was born blind and relies solely on screen readers to view all online content. This screen reader demonstration and question and answer session will enlighten and motivate you to continue your pursuit of accessible webpages and online course content, particularly for the many Penn State students who use assertive technology such as screen readers. This session will be helpful for all faculty that deliver content online through Drupal, ANGEL, or any other platform.
Why All This Talk About Accessibility Recording Link
Creating Effective Assessments (February 2015)
If you've ever authored a course, you know that writing assessment questions can be extremely difficult. Crystal Ramsay, an assessment expert from the Penn State Schreyer Institute, will be on-site to conduct a hands-on training session on how to write effective assessments and talk about overall best practices in assessing student learning. If multiple choice questions comprise any part of your assessment strategy, please bring with you at least one such assessment to refer to during the session.
Effective Assessments Recording Link
Accessibility and World Campus (January 2014)
Anita Colyer Graham and Terry Watson from the World Campus will present on the following:
The process for students
Typical accommodations
Why specific accommodations are needed (for example, why more time on exams?)
Typical assistive technologies students are using
How many students are covered under ADA for World Campus, and the kinds of disabilities we are seeing
How to make a referral
Accessibility and World Campus Recording Link