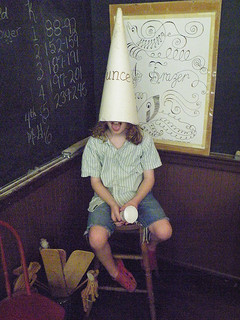 So far in this course, we have been looking at the overall process of teaching online, from getting your course ready for a new semester, to interacting with your students on a daily and weekly basis. Using Managing Your Online Course as a guide, we have planned for a very organized semester! But what happens when something goes wrong?
In Lesson 4, we will explore some of the common problems and pitfalls that can occur when teaching...especially when teaching online! We will also discuss some strategies that you can use to continually improve your course over time.
Lesson 4 Deliverables
In this lesson, you will be tasked with two activities:
Engage in a discussion of teaching problems and pitfalls with other OL 2000 participants - we have a lot we can learn from each others experiences! This discussion will take place throughout the week.
Customize Managing Your Online Course so that it can be even more useful to you when you teach. As in previous lessons, you will post your work to our discussion forum.
Detailed instructions for both of these activities will be provided later in this lesson.
---
Photo Source: http://flic.kr/p/8bAHxq