One of the trickiest aspects to teaching is figuring out if your students are "getting it." Ideally, you want to help them assess their progress toward learning goals as they go. As a student, there is nothing worse than getting halfway—or even all of the way—through a course, only to find out that you are failing!
Formative ("on-going") and Summative ("end-of-unit") Assessment
Formative assessment is simply the process of monitoring student progress along the way, both formally and informally. This might take the form of weekly quizzes, self-check exercises peppered throughout a lesson, lesson discussions, one-minute papers, etc. These do not have to be graded assessments. The key is to provide regular opportunities for you and your students to gauge progress and for students to receive meaningful feedback that will help them to either improve (if needed) or to reinforce good habits. Ideally, "regular" means at least once a week throughout the semester. This reduces the risk of a student getting too far off track.
Summative assessment is a more formal evaluation of a students' level of learning in a certain period of time. These are typically graded assessments. While formative and summative assessment are often confused, "The former supports teachers and students in decision-making during educational and learning processes, while the latter occurs at the end of a learning unit and determines if the content being taught was retained." (See http://en.wikipedia.org/wiki/Formative_assessment) Like formative assessments, summative assessments can take a wide variety of forms.
Designing Effective Assessments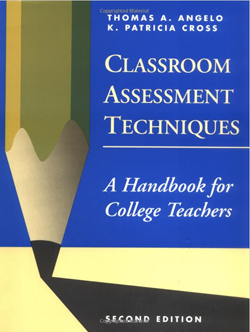 While a common assessment strategy is to incorporate periodic quizzes or exams, those instruments might not be the most effective way to measure student progress. One should start by determining what it is the student should know or be able to do, then analyzing the best way to measure that knowledge or skill. We call this "backward design."
For example, if you were a piano instructor and your learning goal for students in your beginner course was for them to be able to play "Mary Had a Little Lamb" by the end of the course, you wouldn't want to measure their progress by having them take a multiple-choice quiz—you would have them play that piece on the piano! Likewise, many learning goals are best measured through projects or presentations instead of traditional exams. The possibilities are practically endless! There are many web sites and even books dedicated to sharing assessment techniques, such as www.flaguide.org and Classroom Assessment Techniques by Angelo and Cross.
Assessment Tips:
Create assessments that are clear and easy to understand. Make sure the assessments are achievable by students and are clearly connected to the course content. Check your assessment methods against your goals and objectives.
Encourage students to develop skills in providing meaningful feedback to peers by providing guidelines to good feedback and by modeling what is expected (Palloff & Pratt, 2009).
Design learner-centered assessments that include self-reflection (Palloff & Pratt, 2009). For example, you might use questions such as: What was the most important thing you learned in this lesson/class? What questions remain unanswered? What did you contribute to the learning process this week?
Provide "authentic" assessments that enable students apply their learning to real-world tasks (See Authentic Assessment Toolbox at http://jfmueller.faculty.noctrl.edu/toolbox/index.htm)
Ensure that there are a variety of assessments that assess lower and higher-order thinking skills. (See information about Cognitive Learning at Bloom's Taxonomy of Learning Domains at http://www.nwlink.com/~donclark/hrd/bloom.html)
Provide assignment rubrics that clearly communicate to students how they will be assessed. Want to learn more about rubrics? See:
Balance graded vs. ungraded and team vs. individual assignments to help manage the workload. Using ungraded assessments will give students an opportunity to practice without the risk of lowering their grade.
Include collaborative projects that will help students develop team building skills. Have students peer assess each other's performance and contribution to the team project. (See a sample rubric)
Grade participation in an online environment so students are encouraged to engage in the learning activities and course discussions. Here are two examples of discussion forum rubrics:
---
References
Angelo, T. & Cross, K. (1993). Classroom assessment techniques: A handbook for college teachers (2nd edition). San Francisco, CA: Jossey-Bass
Palloff, R.M. & Pratt, K. (2009). Assessing the online learner: Resources and strategies for faculty. San Francisco, CA: Jossey-Bass.
Svinicki, M. & McKeachie, W.J. (2011). McKeachie's teaching tips: Strategies, research, and theory for college and university teachers, (13th ed.), Belmont, CA: Wadsworth Cengage Learning.