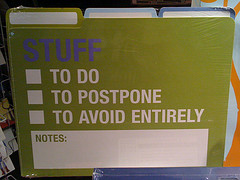 Even when you are doing a stellar job of interacting with your students online, there will undoubtedly be times when some of your students are noticeably absent from the course interactions or are lagging behind. It is important that you reach out to these students to learn more about their reasons for not participating and work with them to overcome any hurdles they may be facing.
Be aware that students who fall behind may have legitimate reasons doing so, such as work or family crises. These are particularly apt to be the case if your students are working adult professionals.
Students who are not making sufficient progress may find themselves in jeopardy of not completing the course within the same semester of enrollment, which could endanger their financial aid for the following semester, or student reimbursement of tuition if the student is receiving funds from a third party (such as an employer).
Strategies for Helping Students Progress
So how can you help your students?
Send a weekly e-mail or announcement summarizing course activities as a general reminder to the whole class near the end of the week.
Introduce a new week with an overview of upcoming events and deadlines.
Use the WhoDunIt Agent in ANGEL's Report tab to track students' progress in course activities and identify those who are falling behind. Contact students by e-mail or phone who have not completed assignments.
Contact students who haven't logged in for over a week to inquire whether they're experiencing technical difficulties or problems with course content, team communications, and so on.
If students cannot participate due to technical problems, connect them immediately to technical help. (For World Campus students, contact Outreach HelpDesk)
Work with students to determine the best strategy for catching them up with the rest of the class. This might mean a bit of creative thinking on the part of the student and the instructor! For example, if the student has encountered technical problems while trying to complete an assignment, is there an alternative activity they could complete that would accomplish the same learning goals?
Include flexibility in grading if possible:

Allow students to drop lowest grade
Give choices for when students can complete assignments (e.g., Pick 2 out of 5, etc.)
Administrative Note:
Faculty are expected to monitor a student's participation in an on-line course. If a student appears to have stopped participating in your course, does not respond to you, and the final grade is reported as an "F", as the course instructor you are obligated to accurately report the date the student last attended your course.

The last date of attendance (LDA) should be recorded as the last day of participation in an academically-related activity. The sole act of logging into the course is not sufficient to support the LDA. Faculty need to retain documented evidence beyond course log of the activity which supports the reported LDA.

The accurate reporting of student's LDA when assigning an "F" grade supports the University's responsibility in compliance with federal regulations permitting the University to participate in receiving Title IV Federal Aid funding. Failure to accurately report this date may cause the institution to lose the privilege of receiving Title IV Federal Aid funding for their students.
---
Photo Source: http://flic.kr/p/59bxN6