Did you complete our course orientation?
Before you begin Lesson 1, make sure that you have completed our Course Orientation!
As we discussed in the orientation, OL 2000 is structured around a web-based resource called Managing Your Online Course, which serves as a checklist for instructors to follow as they teach online. The resource starts by identifying things an instructor should attend to in the weeks preceding the start of a course and leads one all the way through to the final course evaluation. Likewise, in OL 2000 we will "walk through" a semester of online teaching, highlighting the key teaching roles and responsibilities along the way.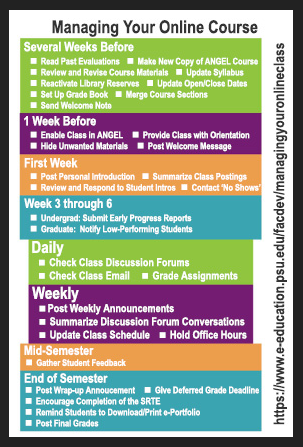 In this lesson, we will concentrate on the tasks listed on Managing Your Online Course that take place in the weeks before your course begins, as you prepare the online environment for your students. These tasks include:
Reviewing Best Practices and Expectations for Online Teaching
Making a new copy of your Canvas course
Reviewing your course content and fix any broken hyperlinks, images, etc.
Updating your syllabus and any other instructor-specific course materials
Updating your course calendar
Reactivating your Library Reserves
Updating any content open/close dates
Determining which tool you will use to keep track of student grades and set up that tool for your new class
Merging your course sections, if applicable
Sending your students a welcome letter
"Enabling" your course in Canvas
Providing formal orientation materials for your students
Hiding select class materials from student view
Posting a "welcome" announcement for your students
Lesson 1 Deliverable
At the end of Lesson 1, you will write and post your own course "Welcome Letter" to our discussion forum in order to get feedback from your peers in this course. Likewise, you will be asked to review the letters that others post and provide them with your own feedback. Detailed instructions for this activity will be provided later in this lesson.