Updated April 6, 2020
Go to https://psu.zoom.us and Sign In using your PSU access account.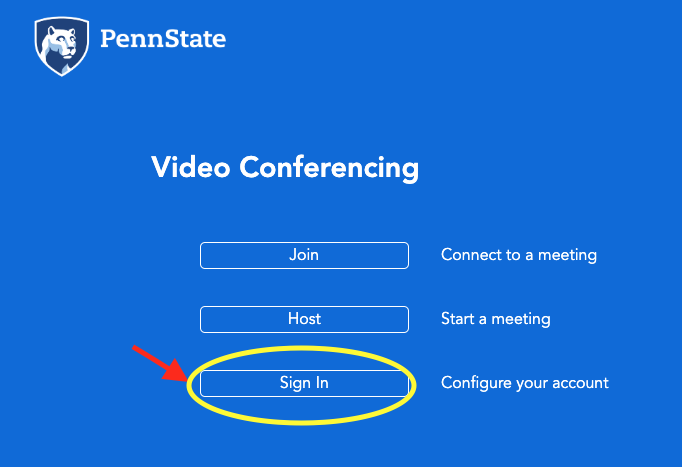 In the left-hand menu, click on Settings.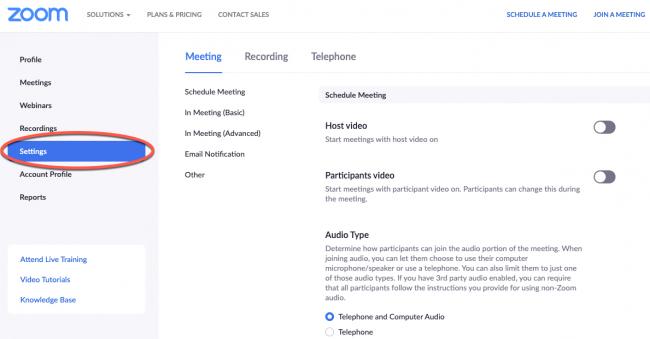 Recommended Settings
There are many settings in Zoom. Some may be set however you like, but we recommend that the following settings are toggled to "on" (so that the toggle appears blue).
Host video (On): This will allow the students to see you; faculty presence is helpful during this time, unless you are concerned about bandwidth where you are working. In that case, make sure you add an image in your Profile in Zoom (see below-- text will say "Add" or "Change"). That image will show when your video is off.
Participants video (Off): This saves bandwidth.
Audio Type: Telephone and Computer Audio selected.
Join before Host (Off): This prevents students from joining before you arrive to class.
Use Personal Meeting ID (PMI) when scheduling a meeting (Off): For classes, create a unique zoom room. Some preferences for optimal classroom usage do not work with PMI.
Only authenticated users can join meeting (On): This will allow you to force students to use their PSU Zoom accounts (with PSU email address) when logging in. See Setting up a Meeting Using PSU Authentication for more information. Students will first need 'Sign In' to activate their accounts at https://psu.zoom.us/, if they haven't already.

Chat (On): This is useful for students to send questions to you during class.
Private Chat (Off): You can have it on, but this prevents students from chatting without your seeing it.
Co-host (On): This allows you to add TAs, etc., as co-hosts to a meeting.
Polling (On): This allows you to give your students brief polls for interaction and formative assessment purposes. If requiring registration, you can get reports of what participants answered, but if you need to give credit for correct answers, consider looking into other polling options, such as iClicker Reef, or add a short Canvas quiz(s) that is open during class.
Show Zoom windows during screen share (On): By default, Zoom windows and toolbars are not included in screen sharing. For example, if you share your desktop and it contains a PowerPoint presentation and the Zoom chat and the participants window, only the PowerPoint will broadcast in the Zoom meeting or webinar. If you are using the Zoom Client for Meetings desktop application, you can show your Zoom windows and toolbars while sharing your screen.
Screen Sharing (On): You can decide based on your class whether you or everyone can share and who can share while someone else is sharing. If you allow everyone to share, you may want to limit "sharing when someone else is sharing" to the host only.
Annotation (Off): This prevents students from annotating over anything that is being shared.
Nonverbal Feedback (On): This allows students to indicate whether they'd like the session to move faster or slower, answer Yes or No, etc.
Allow removed participants to rejoin (Off If you are concerned about disruptive behaviors).
Breakout room (On): In addition, choose to allow the host to assign participants to breakout rooms when scheduling.
Remote Support (On if you are working in a software package where you may need to help students 1:1) If you select this, note that breakout rooms access will turn off. You cannot have both on at the same time. You can switch settings between sessions.